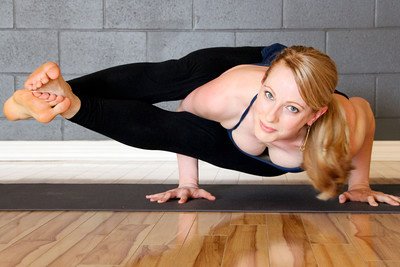 Katie McClelland
Katie has been teaching yoga full time since 1997. She likes to joke that she was certified to teach yoga while still in the womb, as her mother wentthrough yoga teacher training while pregnant with her! Katie's roots are in ashtanga yoga and she derives inspiration from many styles of yoga including Vinyasa, Iyengar, Anusara and Kundalini. Katie is the founder of De La Sol Yoga Studios in Hamilton, Ontario, Canada which first opened in 2006 and expanded to a second location in January of this year and a third location this coming June. She is the host of Yoga With Katie, a 30min instructional yoga show which airs six days a week and is seen by 900,000 viewers. Recently, Katie has been speaking out at high schools and recovery centers about her history of drug addiction and ongoing journey towards wellness and wholeness. She is currently working on her first book, a memoir titled Waking Up.
Katie McClelland's thoughts about Soul Art
The first time I took part in the body mapping process, I truly experienced, for the first time, my body speaking to me. It was like having an intimate, day-long conversation with a long lost friend. Not only did I learn a lot about myself and about where my body was holding on to my past, I got to experience the joy of a creative, artistic release! I have done several body maps since, combined with a walk in nature which Laura always recommends, and each one has been a unique and beautiful healing journey.