Flora Bowley
Flora Bowley is an internationally recognized painter, teacher, author, and inspirationalist. Her transformational approach to the creative process celebrates brave intuitive expression and honors the connection between body, mind and spirit. Blending over twenty years of professional painting experience with her background as a yoga instructor, massage therapist and lifelong joy seeker, Flora's art and offerings are infused with a deep sense of soul, passion and generosity.
Flora's vibrant collection of paintings can be found in galleries and printed on unique product lines sold worldwide. Her popular book, Brave Intuitive Painting (Quarry Books, 2012), is an inspiring guidebook enjoyed by both novice and seasoned painters, and has sold over 30,000 copies. Flora spends her time painting, teaching, writing and dreaming among a vibrant community of artists in Portland, OR. To see Flora's art, read her blog and find out more about her book, online courses and retreats, please visit www.florabowley.com.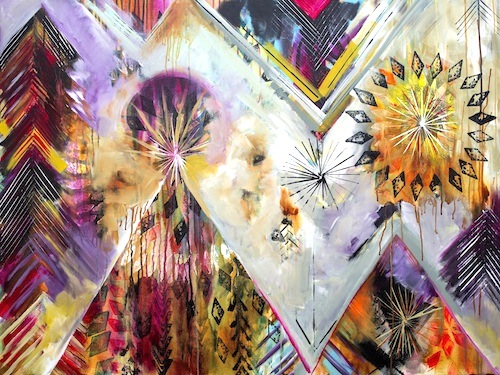 Flora Bowley's Soul Art
The concepts of letting go, being brave and embracing mystery reside at the heart of my painting process, while also connecting me to a more soulful way of living. By letting go of what a painting is "supposed" to look like, I create space for endless creative possibilities to emerge — such an invigorating way to create! Being brave means stepping outside of my comfort zone, taking risks and coming up with new ways to approach the canvas each time. Embracing mystery is about opening up to something greater than myself and trusting that it will all work out eventually — often with many twists and turns along the way. Working with these concepts keeps me grounded firmly in the present moment, open to possibility and curious along the way.
This particular piece of soul art titled, "Burn Bright," is a great example of letting go, being brave and embracing the mystery. The colors, shapes and tools I used (potatoes and rulers!), were very new to me, and lots of brave exploring happened along the way. Approaching a canvas in this brave intuitive way is never boring, far from formulaic, often exciting and totally forgiving: All reasons to keep me coming back to the canvas (and to myself), again and again.
'Brave Intuitive Painting (+ Living): Tips' gathers all of Flora's philosophies on painting and living into one inspiration packed PDF. Inside, you will find practical guidance, soulful reflections and loving reminders for painting and living the brave intuitive way.