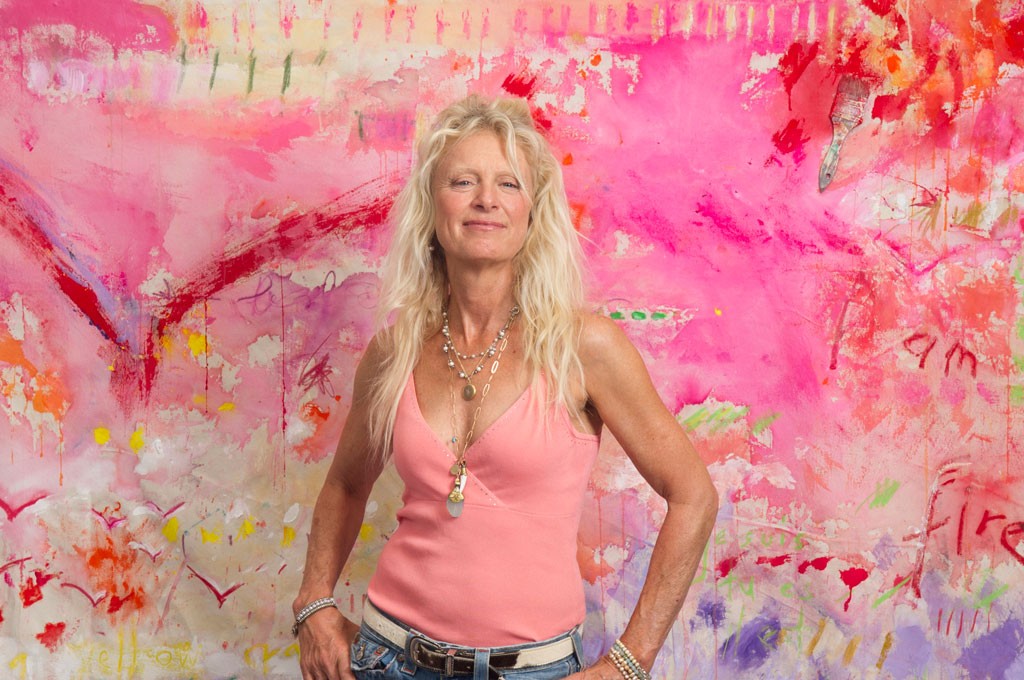 About Amadea Bailey's Soul Art
I grew up in Africa riding horses in the bush, eating sugarcane by the side of the road and playing dress-up with banana leaves. I experienced a sense of freedom and abandon, and an immediate connection to the tactile, physical, and non-rational worlds. Now, as an adult, my paintings reconnect me to that awakened child of Africa.
I paint as an explorer going on a journey. I disappear into the unknown and dig for what will unravel and reveal itself: new images, new relationships, new ways of moving paint. Scraping, scratching, wiping, adding, subtracting. Inviting drips, stains, layering, accidents.
I am a deeply physical person. I love movement. In addition to painting, I run, surf, and dance. I paint on a large scale so I can feel my body moving across a big field. I paint because I love the tactile, sensual aspects: tearing, ripping, paper, paint, collage, plaster, glue. I crave the space for spontaneous gestures, for paint to swirl, and colors to collide. Cerulean, magenta, violet, and indigo. I search for the image, and its proper place in the world around it. I allow words and images to appear, disappear, get buried, resurface. I thrive making order out of chaos. I love taking the irrational world of my emotions, hopes, fears, dreams, desires and idiosyncrasies and sculpting and re-arranging them in myriad ways on a canvas until order is found.
Amadea Bailey
Amadea Bailey was born in Gottingen,Germany and spent her childhood in Kenya. She was educated at Yale University, studied dance and acting at the Royal Academy of Dramatic Art in London and the American Conservatory Theatre in San Francisco and finished her art studies at the New York Studio School in Manhattan. Bailey has traveled extensively and has lived in London, Paris, and New York. Currently she lives and works in Los Angeles, five minutes from the ocean. She designed her own studio, which has been featured in a number of nationally aired films, television shows, and commercials.  
Bailey is at heart an expressionist painter.  Her work is emotionally driven, highly textured. and the result of the immediate process of painting. She does not paint according to plan but allows each painting to unfold as she goes along. As Bailey says, "I enter into a dance with each new canvas and never have a clue where I am going to end up." She works in oil, mixed media, collage, and drawing. Bailey has shown in numerous galleries and her work is in many private and public collections across the country, including that of Halle Berry, Tia Carrere and Steve Jablonsky. She is also passionate about surfing, dance, architecture and fashion. 

Amadea Bailey's Soul Art Journey
How did you discover your creative spirit?
I have been a creative animal since i can remember. The pursuit of creativity has always been a central part of my life. I started off dancing and then played the piano and was in involved in theatre for a number of years before I found painting. I have an adventurous spirit that is nurtured by exploration and fun and challenge all of which are key elements of creativity. I thrive on entering into the unknown and discovering new terrain and creating something original out of nothing I also have a very active mind which needs to be stimulated by new experiences and new relationships to my materials and my craft.
What is most important to you as an artist?
To explore and play and engage. If something gets too easy and i have already done it then i need to shake it up and move into new territory where i feel challenged and alive.