Kerstine, exploring life from Germany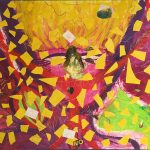 What Inspired you to do a Soul Art journey?
The female power of creation in your videos
How would you describe your creative process?
Healing. Passionate. Deep.
What insight did you receive from your Soul Art?
Through my Art I find peace inside of me
What is the most important thing you would like to share about your Soul Art experience?
I loved to connect with my artwork and fully let it in. I really appreciated the connection through intimate studio webcam … that somehow touched me … to see you different artists … it helped me to stay with me and do my own art … I did it my way. Thank you!!! And it touched me to see the facebookposts of all those wonderful women all over the world.