Sheila Marie Delgado, Artist, surface designer, writer. From the United States from United States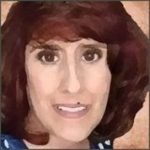 What Inspired you to do a Soul Art journey?
Connecting with creative energy, sharing the company of creative spirits worldwide. This is my sixth Soul Art. I look forward to it each year.
How would you describe your creative process?
I started with a small warm-up using Liquitex paint markers. New tools for me. Making marks, no intention. The sound of the markers on the rough (Arches) watercolor paper drew me in. Listening to the movements, and music in the Soul Art studio welcomed me. Relaxed me. I meant to do more of these, but I soon felt limited by the small paper.
I prepped my palette, reached for a 12 x 16 sheet of paper and started making marks. Paint and combs. Stamps and fingers. My piece, a meditation. Layers on layers. I was so lost in thought, I forgot to take photos along the way.
What insight did you receive from your Soul Art?
It has happened before. I am not sure the insight has revealed itself to me just yet. I have the painting propped up in full view. I feel more myself, more whole, having spent the day creating.
This piece is about flow. Free flowing, exchange. Breath. Breathing. Taking nourishment in. Energetic movement. Release. Repair. Prayer. Connection. Healing. Freedom. Independence.
What is the most important thing you would like to share about your Soul Art experience?
I highly recommend taking part in Soul Art. I was alone in my studio, but the connection I feel to the other artists throughout the day is very real. Just one day. The energy, the sharing of ideas, the sharing of work in progress. The feelings of community and welcoming. These continue on and carry me through, long after the day has passed.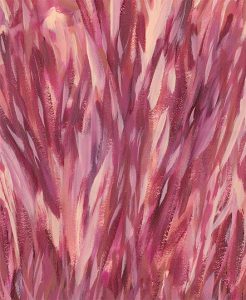 Learn more about Sheila Marie Delgado
Website: https://www.sheiladelgado.com/