What insights did Shiloh Sophia McCloud receive from creating Soul Art?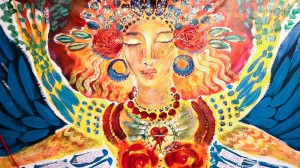 Creating Soul Art is a healing journey that can be life changing. The process of working with image, word, personal story and a guided journey makes it possible to get to the roots of what someone is dealing with in their lives. As an artist and teacher myself, I believe this kind of work is what it is all about, a combination of ancient wisdom combined with modern tools. Soul Art has taken this way of art making to a new level of experience that isn't just for artists or creatives – it is truly for anyone who wants to go deeper in their own process of self awakening.
In my own journey with Soul Art I was focused on having a breakthrough in my thinking, I called it "accessing my genius". As an artist myself, using my own processes had taken me to a certain point in my journey, and I knew that working with Laüra Hollick would cause an opening I couldn't take myself to. We need each other to do the visionary work in the world. As the Hopi Elders said, the time of the lone wolf is over. So I knew I wanted to spend time with powerful
feminine "ikon", Laüra Hollick. This work can be for beginners, and leaders, who have already done a bunch of the 'work' to go to their own next level. We need to work with our piers, other great minds to level up our breakthroughs. So even though I recommend this work for anyone, I especially encourage those who are seeking to have a breakthrough in their leadership, and how they show up in the world.
A Free Gift from Shiloh Sophia McCloud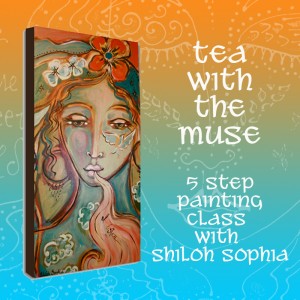 Prepare to Meet Your Muse. It's not what you think. Express your own soul art through color, image, word and the invitation to the mysterious mystical Muse. You will be inviting her to tea and you will be amazed at what happens. This process teaches you how to access your own internal imagery and stories and bring them onto the canvas. You don't need any painting experience because this is a guided step by step process. Learn the mystical and profound intentional creativity method to access your interior wisdom based on The Color of Woman Method by Shiloh Sophia McCloud
Paint a painting dedicated to your muse – no experience needed.Make a connection with one of the most powerful tools known to woman, the MUSE
Discover deep inner mysteries and thoughts and symbols you didn't even know you could access.
Learn to paint with acrylic paints using a very simple step-by-step process.Navigate the critic through meeting your muse and transform your relationship to your inner voice.
Experience the healing power of intentional creativity and how it can be a blessing in all areas of your life through giving you a new language.
Click to receive Tea with the Muse – 5 Step Painting Course Download with Shiloh Sophia
Shiloh Sophia McCloud's Bio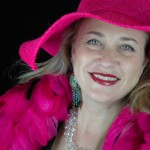 Shiloh Sophia McCloud is a visionary artist and poet dedicated to transforming lives into legends through the intentional creativity movement. She has been a leader in art and education for over twenty years, has published seven books, has run an art gallery for over 14 years and represented hundreds of women artists. She is the founder of The Red Thread Nation, an global online Magazine and Network, as well as the founder of Cosmic Cowgirls University, a woman and girl owned school teaching online and in person, she also teaches art and visionary business in at Sofia University. In order to share this work with others she developed the Color of Woman Painting Method and trains women how to teach a step method of intuitive painting and intentional creativity. She considers life a great adventure and her life long vision is to empower all creative beings worldwide through a revolution of image and word.
www.shilohsophiastudios.com www.redthreadnation.com
Learn more about Shiloh Sophia McCloud
Website: https://www.shilohsophiastudios.com