What insights did Laura West receive from creating Soul Art?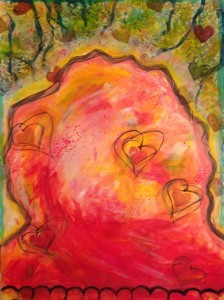 To prepare for my Soul Art Project I gathered my energy, intentions and supplies. I was filled with anticipation about what I would create. I even made a special trip to the art store to gather a few extra "somethings" that would be so perfect for the picture that was emerging in my head.
Ha! The universe laughed and said, "This is not how Soul Art works!"
It started when I asked my husband to draw the outline of my head and shoulders. I laid down on the paper with visions of breezy and wispy hair strokes popping up on the paper. When I got up to look, I was speechless. It wasn't anything like I envisioned.
I knew at that moment that I had to surrender to the Soul Art process. I sat back and let spirit tell me what to do next – which colors to select, how to move, when to add more and when it was enough. Then I sat and listened and asked what else did my Soul Art want to say. Then I was moved to make another mark.
Commit. Let go. Listen. Act from inspiration. Let go again. And again.
I love where my Soul Art took me. It's so much more beautiful, expressive and filled with intuitive messages than I imagined.
A Free Gift from Laura West

Every Monday set the stage to open up your creativity and positivity in your business! You'll receive our popular Miracle Marketing Audio Messages to inspire creative marketing ideas and mindset shifts so you have plenty to celebrate in your Online Gratitude Journal!
Click to receive Creative Marketing Resources: Miracle Marketing Messages and Online Gratitude Journal
Laura West's Bio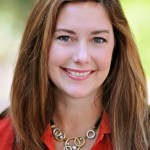 Laura West is a Passionista for creativity in business!
As a Creative Business Coach, author, speaker and Visual Facilitator she has helped 1000s of Creative Inspirational Leaders create successful businesses leveraging their with passion and creativity.
Laura is known for turning marketing on its head and making business fun, creative, practical, and possible through her information products, retreats workshops, teleclasses, and coaching programs.
She is the author of several information products including The Business Goddess's Guide to Creating Powerful Sales Pages and the popular Joyful Business Guide™, a creative marketing plan for right-brain business owners.
She is the contributing author for several books about women entrepreneurship, as well as, for many online magazines, and is a highly sought-after guest expert speaker for telesummits, and conferences around the world.
Laura loves to work with creative entrepreneurs who have a mission to create a better world with their expertise and creativity: their work is a calling, and they can't imagine doing anything else.
Learn more about Laura West
Website: https://www.JoyfulBusiness.com