What insights did Flora Bowley receive from creating Soul Art?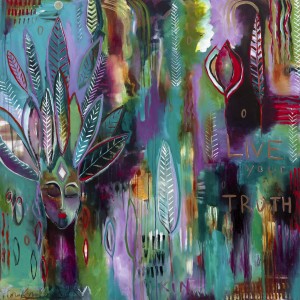 I am continually blown away and inspired by the power of *allowing* my art to emerge organically and intuitively rather than forcing a predetermined outcome. When I am able to remove my desire to perfect and control, something greater is encouraged to move through me. Letting go in this way allows the creative process to be one of self-discovery, moment-to-moment revelation and pure freedom at my finger tips. To me, the is soul art.
A Free Gift from Flora Bowley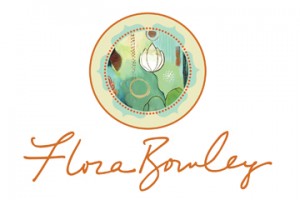 My colorful monthly newsletter features vibrant works of soul art, inspiring stories and projects as well as opportunities for you to dive more deeply into your own brave intuitive art making process.
Click to receive Subscription to Newsletter
Flora Bowley's Bio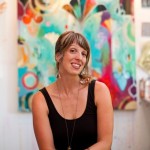 Flora Bowley is an internationally celebrated painter, workshop facilitator, author, and inspirationalist. Her vibrant paintings can be found in numerous galleries, in public spaces, on album covers and on licensed products found worldwide. Flora combines eighteen years of professional painting experience with her background as a yoga instructor, massage therapist and lifelong joy seeker to infuse her teaching and painting style with a deep connection to body, mind, and spirit. By honoring intuition and celebrating the present moment, Flora welcomes joyful spontaneous expression back into the creative process. Flora's book, "Brave Intuitive Painting" (Quarry, 2012), along with her online courses and workshops have inspired thousands of people to "let go, be bold and unfold" as they step fearlessly into the creative process. Flora splits her time between painting, teaching, and traveling in colorful locations around the world and living among a community of artists in Portland, OR.
Learn more about Flora Bowley
Website: https://www.braveintuitiveyou.com