What insights did Allison Crow receive from creating Soul Art?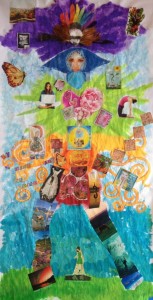 I created and allowed for a whole sacred weekend to experience this process. I wanted to do it from a place of feminine energy –eggy and receptive, not task oriented and spermy DO DO DO energy. I noticed that I was drawn to work in layers, and that all of the energy colors were represented. I was surprised and delighted that so much art imagery, so many flowers, and so much color came forth. The goddess that was created is moving in to her new self, transforming and charged with receptive feminine energy, she has elements of a sacred Native American medicine woman, and delights in both where she has been and where she is going. She lives life in full color and free to express her soul, feelings, wisdom, and art.
It was important for me to capture the insights from this journey from the beginning through the end. I created an ongoing post about my journey, with insights, backstory, and photos here: https://allisoncrow.com/a-soul-art-journey/ It was amazing to share this with my tribe, and I was gifted with a lovely intuitive reading from a fan – she saw the photo and gave me her insights even before I expressed mine personally. Her reading was SPOT on and a lovely confirmation from the Universe that my soul is dancing in the perfect place along this path.
A Free Gift from Allison Crow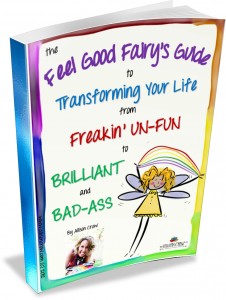 The Feel Good Fairy Guide is a delicious visual & soul-full guide to getting what you want out of life ~ all via the secret of feeling good. All of my work is a part of my creative art expression- my writing, my drawing, my doodles, and even my teaching. Just like the intuitive process of soul-art -everything I share with you is created much the same way. The fairy – and her light and free energy is my symbol of openhearted, unashamed expression. I trust that those who choose to explore my book and meditations and art that come with it, will be the exact ones who attracted the information I give.
Click to receive The Feel Good Fairy's Guide To Transforming Your Life From Freakin' Un-Fun to Brilliant & Bad-Ass
Allison Crow's Bio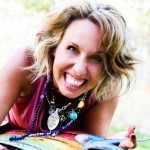 I am a speaker, writer, intuitive life coach, and teacher. A goddess of color, creativity, and unashamed moxie, I adore alignment, authenticity, creativity, connection, & balance.
In 2010, after years of teaching, training, and coaching in traditional corporate positions,
~ I gave up over achieving
~ I gave up striving
~ I Chose NEW ways of living and working in the world
~ I decided to color my world with life, and fun!
I specialize in Ease, Flow, and Fun! ~ I teach and coach on using Energy Alignment, Law of Attraction, and Abundance Mindset to help you create the life and work of your dreams.
I work with soul-centered women who are high-achieving women: leaders, coaches, entrepreneurs, artists, and visionaries who are here to impact the world with their lives and work.
I live in Austin, Texas with my husband and my three dogs. I like draw, play, and nap as much as possible.
Learn more about Allison Crow
Website: https://www.allisoncrow.com