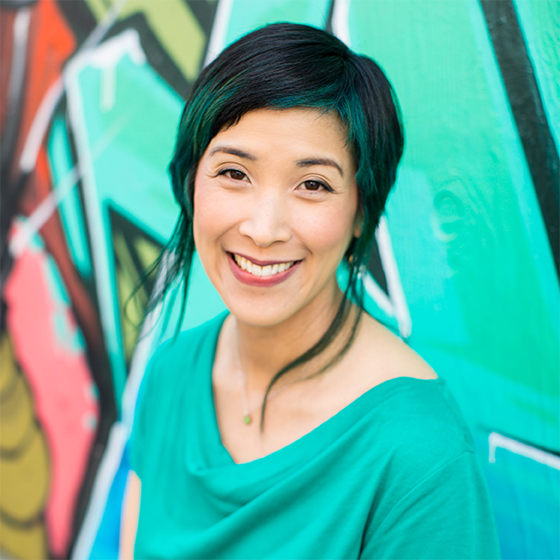 In 2014 I was honored to join Laura and a handful of other creative spirits in-person at Laura's studio to celebrate Soul Art Day. This painting was the result of a glorious day of Soul Art and connecting with my Inner Muse. One of the themes in this piece was around my long-time desire to have my own studio. And low and behold less than a year later I signed a lease on my new creative space.
– Jennifer Lee
Jennifer Lee
Jennifer Lee is the founder of Artizen Coaching and the author of Building Your Business the Right-Brain Way and the bestseller The Right-Brain Business Plan, which has helped tens of thousands of entrepreneurs around the world launch their creative businesses.
After spending 10 years climbing the corporate ladder and getting tired of living her dream "on-the-side," she took the leap to pursue her passions full-time. Jennifer has been featured in the Wall Street Journal, Entrepreneur, U.S. News & World Report, Whole Living, Family Circle, Cloth Paper Scissors Studios, and Choice Magazines.
She received her coaching certification and leadership training through the prestigious Coaches Training Institute. She is also a certified yoga instructor, a certified Expressive Arts Facilitator, and holds a B.A. in Communication Studies from UCLA and an M.A. in Communication Management from USC. She lives in the San Francisco Bay Area.
Jennifer Lee's Soul Art Hall of Fame Interview
How would you describe your art?
My intuitive paintings are an outward expression of my internal creative essence. These crazy visual landscapes have a life of their own and tend to be bright, big, and bold. For me these art pieces are all about the process not the end-product. They allow me to explore my own emotional journey from the dark, ugly places to moments of sheer joy and delight and everything in-between.
What are the biggest challenges you faced as an artist, and how did you overcome them?
One of the biggest challenges I faced as an artist was stepping into my own bigness and learning how to take up space. This was just about my huge intuitive paintings, but also energetically it was about becoming more visible through my work and business. The simple practice of painting and adding more paper and more paint allowed me to embody what it was like to take up space and be seen. I'd say another challenge was letting my creativity go dormant while I was I spent a decade climbing the corporate ladder. Stepping out on my own to start my own business helped me reclaim my creative power and connect back with my artist-self.
What role do you feel an artist plays in our society today?
Artists help us tap into our deepest intuition and inspire us to connect with and express our emotions. Artists as leaders in society will help us bring more awareness, sensitivity, spaciousness, and beauty into the world – things that are much needed to positive and impactful change.
What is most important to you as an artist?
Authentic self-expression is most important to me as an artist.