amadea c bailey
An amazing artist to inspire your journey
amadea c bailey's Soul Art Day Interview
What shaped you as an artist?
I was blessed to have an unusual background that included travel and adventure. I was born in Germany and then lived in a small village outside of Nairobi Kenya from the age of five to ten. In those years i had the opportunity to live very close to nature: the big african sky, the parched earth, and all the elements. I learned how to ride horses in the bush, , went to a multi-racial school on an acre of land, and accompanied my family frequently on safaris. It was an unbridled life of expansion and freedom and joy. I am certain that those years influenced the decision I made in my early 20's to become a painter. It is my objective when I paint to express that sense of freedom and expansion and adventure that I experienced as a child.


How would you describe your creative process?
I am an expressionist painter. My work is emotionally driven, highly textured. and the result of the immediate process of painting. I do not paint according to a plan but allow each painting to unfold as I go along. I enter into a dance with each new canvas and never have a clue where I am going to end up. My creative process embraces swimming in the unknown
and finding order out of chaos. For a painting to be successful I have to go to a new place inside of myself and I get to create something that has never before been created. That is a thrill.


Why do you make art?
I love the sensuality of painting. Paint is viscous and fluid and thick and malleable….I can make it go on thick or thin. I can be in control or out of control…. I can use my hands, i can use my feet. Painting is tactile and allows me to explore textures and combine different elements in new and interesting ways using paper, fabric, wood, plaster, resin, and plastic. I enjoy playing with new tools… paint brushes, trowels, spray paint cans. There is really no limit. I love COLOR and I find it intoxicating to put colors together in new ways. Colors also describe emotions and I get to choreograph my emotions with an endless array of hues and tones. They can be bright, nuanced, acidic,, fluorescent, saturated, light, dark, transparent, translucent, dense, opaque… and on and on.
I love that I have complete freedom on any given day to go in whatever direction I am called to move in. I am someone who needs a lot of variety in my life., I usually have between 5 and 7 paintings going simultaneously in my studio and I jump from one to the other. .If I feel stuck on one painting I go to the next and often what I do on that one informs me or gives me an idea of what to do on the next. It is a fluid organic process that I thrive in.

More inspiration from amadea c bailey
Abstract Expressionist Amadea Bailey
In my website you will find numerous bodies of work that I have done over the last few decades as well as videos,
biographical information , press, and my collectors list.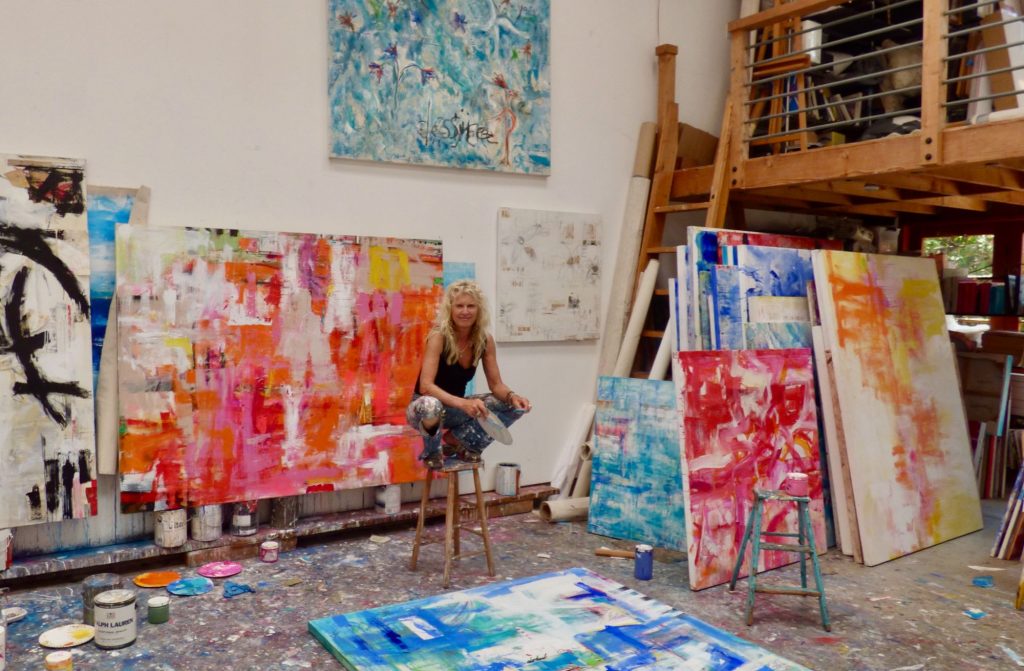 About amadea c bailey
Amadea Bailey was born in Gottingen,Germany and spent her childhood in Kenya. She was educated at Yale University, studied dance and acting at the Royal Academy of Dramatic Art in London and the American Conservatory Theatre in San Francisco and finished her art studies at the New York Studio School in Manhattan. Bailey has traveled extensively and has lived in London, Paris, and New York. Currently she lives and works in Los Angeles, five minutes from the ocean. She designed her own studio, which has been featured in a number of nationally aired films, television shows, and commercials.  
Bailey is at heart an expressionist painter.  Her work is emotionally driven, highly textured. and the result of the immediate process of painting. She does not paint according to plan but allows each painting to unfold as she goes along. As Bailey says, "I enter into a dance with each new canvas and never have a clue where I am going to end up." She works in oil, mixed media, collage, and drawing. Bailey has shown in numerous galleries and her work is in many private and public collections across the country, including that of Halle Berry, Tia Carrere and Steve Jablonsky. She is also passionate about surfing, dance, architecture and fashion