Hemera Margrieta
A Certified Soul Art Guide to inspire your journey
Hemera Margrieta's Soul Art Day Interview
Why have you chosen the artist path?
It's more the artist's path has chosen me rather than I have chosen the artist's path. It more or less happened to me, when I came back to the Netherlands in 2013, after a 3 years adventure in Jordan, I came back broke. I had sold my house, my car, my everything. At that moment I was so frustrated with life itself and felt so much anger inside myself, all I wanted was "paint wildly with black paint". I thought "if it is all black then let it be black". An advertisement at the local supermarket message board brought me to the right spot and here my first creative project "inner expression, an exploration of the dark' was born. I had never been creative before and actually had no clue I had this all in me. One leading to the other, in July 2016, I started with the soul art certification. For 6 years, I worked through the 6 layers of the soul art certification and completed the final Shaman level in January 2022. So more or less I am a graduated soul art guide now.
Slowly my art pieces are finding their way into the world. In October 2021 two pieces were part of the amazing Flying Carpet of Alchemy exhibition in Zug Switzerland, a project initiated and organized by my great friend Janine Landtwing. Besides that, in June 2022, I joined the Pentecost open home/studio art tour in my village wherein artists open up their house or studio for one day to the public. I emptied my living room and created my personal art show Around 60 people came to my first (home) exhibition and had some really amazing conversations with people. This home exhibition I consider my personal graduation project. As an artist I have earned my stripes now and I am ready for the new chapter in my life: the path of the Zebra.


What inspires you?
The Zebra is currently my source of inspiration to understand reality:
In the dark is the light
In the black is the white.
In the barrier is the guide.
You move through the black dark barrier with the white light guidance which opens up a new portal for a new energetic road to travel by "doing it in a different way". It's black and white at the same time. Blending black and white in traditional ways means "grey" a dull colour reflecting "more of the same", losing yourself in the grey mass. Yet blending them in a new different way, the striping pattern of the Zebra appears. Black and white at the same time, yet both colours do not get lost in a grey mass, both get actually woven together into a very unique distinguish recognizable pattern. Like the Zebras in a herd, from a distance, all look the same, yet looking closer each of them has a very unique striping pattern.


What is your art about?
my art is primarily all about self-connection, self-expression and self-focus. For me, it is having a tool to make all that is inside me visible and tangible so I can communicate with it, and while being in the creative process, it is also doable so I experience it. I was born and raised in a highly dysfunctional family which has had a huge influence on my life. My whole life I have struggled of finding my place in society and "trying to fit in the box". Yet the harder I tried, the less it works. It is my art that helps me to ground complex traumatic feelings and find my ways of understanding things. What happens then is, that the things that are by the outer world perceived as "there is something wrong with you" turn around into "being your biggest qualities, your highest assets and your greatest talents". It's the difference between being so complicated, feeling lost inside yourself while trying to fit into the boxes of society versus having the ability to understand complex interconnected systems and create your own matching box by adapting the systems and structures towards yourself instead of the other way around. It's the art for me that makes this all possible. Restoring the connection inside myself and by doing that being able to find my place in this world and into this society.

More inspiration from Hemera Margrieta
Aura-sketching, connect with your next layer of expansion
We all have a field of energy around us, our aura. I sense this energy field as the next layer of expansion that wants to become reality through us. Everything is already there, present in our energy field, waiting to become noticed and to be brought out, into the world. Art and creativity are great tools to make this energy visible and tangible to give it grounding and guidance on what are the next steps to take. I have created a guided creative meditation that will guide you in six steps through your aura field., to get a sense of what wants to become reality through you.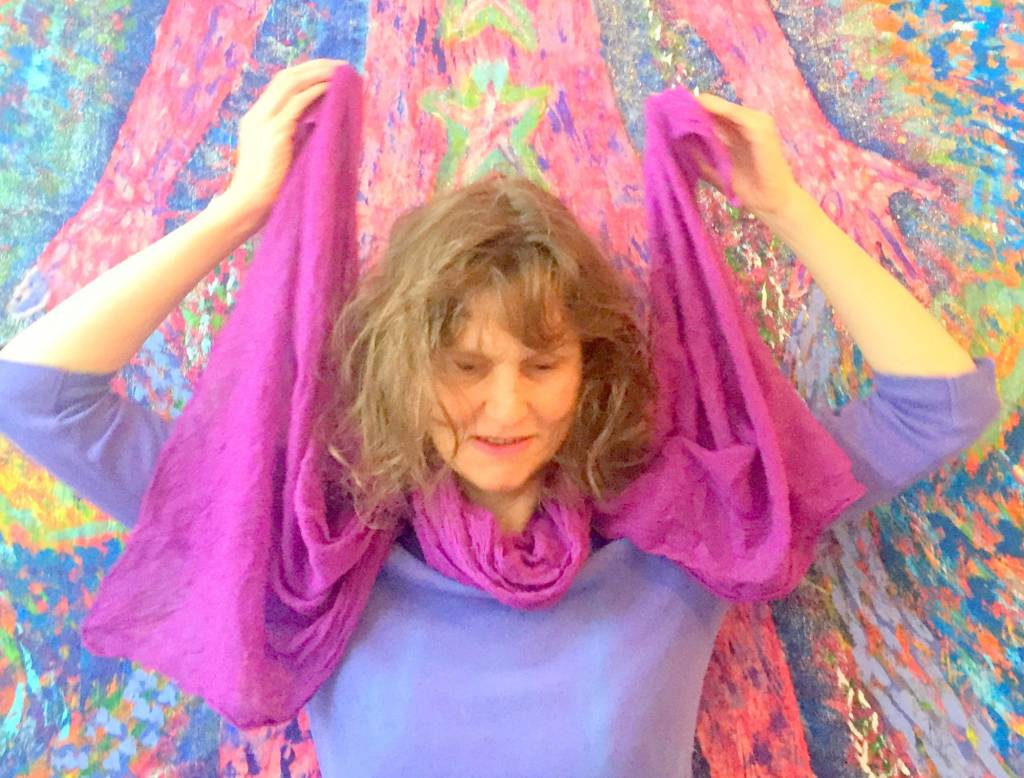 About Hemera Margrieta
Hello, my name is Hemera Margrieta and I am an art communicator and creative engineer. I help my clients transform their inner blocks into renewal and expansion. I take my people on unique creative journeys that express deeper layers inside of them. I help them see, sense, and experience these layers through colours, images, different material use and movement. Becoming "part of the art," they see through their reoccurring patterns, discovering new angles, ideas, and opportunities. I call this "Art in Motion".
 
I am a certified soul art guide, a program of the hand of Laüra Hollick which is valued for its creation power to bring dreams into reality. I also hold a certification in the Dutch body-mind awareness technique, haptonomy, which is known for its art of effective touch. I appreciate these methods for their ability to reconnect people with their originality and their power to help people find their own unique answers.
 
I am an international spirit. I have lived in Italy and Jordan. Currently, building up my business, I reside in the Netherlands and plan to go for a one/two-month visit to Jordan in the fall of 2022.