Dechen Verschueren
A Certified Soul Art Guide to inspire your journey
Dechen Verschueren's Soul Art Day Interview
What shaped you as an artist?
Definitely my first trip to India and the Soul Art Certification.
At 19, I left for India for the first time. A world opened up for me. I may not have found yogis on every street corner, as I had imagined, but discovered a world of colors so different from the Dutch color pallet I grew up in. It felt like I was coming home.
All my senses were awakened and so was my creativity. I never ever will forget that first day in Bombay; from the colors of the slums to the colors of the markets, the saris, the people, the trees, the animals, the ocean, the sunset sky…
For me it was breathtaking and the start of my deep, stable and lasting love story with my Inner Creative Soulmate: COLOURS!
After 3 months I came back home and I began to study Audiovisual Arts at the Art Academy. After a few years I left the Academy to answer the call of a nomadic existence. I left The Netherlands with a backpack filled with a camera, canvas, acrylic paints and brushes….it went always and everywhere with me… During many years I traveled and lived mainly in Asia. I studied with different great Master local techniques for example Batik and Thangka painting.
The paintings of that period are truly nomadic canvases. They traveled with me around the world.
Like a diary, each painting reminds me of the places, the people and the stories lived.
In 2017 I started the Soul Art Certification, that has opened up again a whole new world for me as an Artist.
Whereas before Soul Art I was mainly working with photograpy, painting, drawing and a bit of collaging, Soul Art taught me to tune in and let myself be guided by my Creative Spirit. A whole new level of creating! That resulted in creating works of Art exploring different mediums. It is such a beautiful magical and above all playfull adventure!
I guess that what shapes one as an artist are ofcourse many many things, but these above two mentioned Inner Creative Soulmates are really the loves of my live. With them I keep growing, exploring, expressing and sharing the joy of the Superpower we all have inside of us: creativty!


What keeps you making art?
Ooh this might sound dramatic, but it's the truth: it's like water to my Soul and live… If I stop making art "my tree of live" completly dries up, and eventually dies…


What do you love about your art?
I love that Art is like a mirror of my Soul. I love that my Art is my heART MEDICINE. And I love how it takes me on journeys, how it tells me stories, how it is like water to my Soul, how it enriches my live, how it makes me grow…
What I love about my Art is that it is the portal to healing myself and loving myself. It always brings me back to my power place…

More inspiration from Dechen Verschueren
The Art of You Week Retreat
September 23th till 29th in Spain
In the end of September, in a beautiful villa in the hills close to Alicante and the mediterreanen sea, something magical is happening.
Imagine a small intimate group of people, gathered together in a week full of creativity, connection and playfulness.
Imagine them diving into themselves, connecting to their bodies and letting their inner artist free to express him/herself in a body size piece of art!
You are imagining the Art of You Retreat! Let us tell you all about it..
In this Art of You Retreat we combine Yoga and Soul Art® in order tot connect deeply to our bodies, to our blockages and desires. Connect deeply to ourselves. We will create a safe and warm environment for exploration and sharing. It will be a profound, playful and fun journey!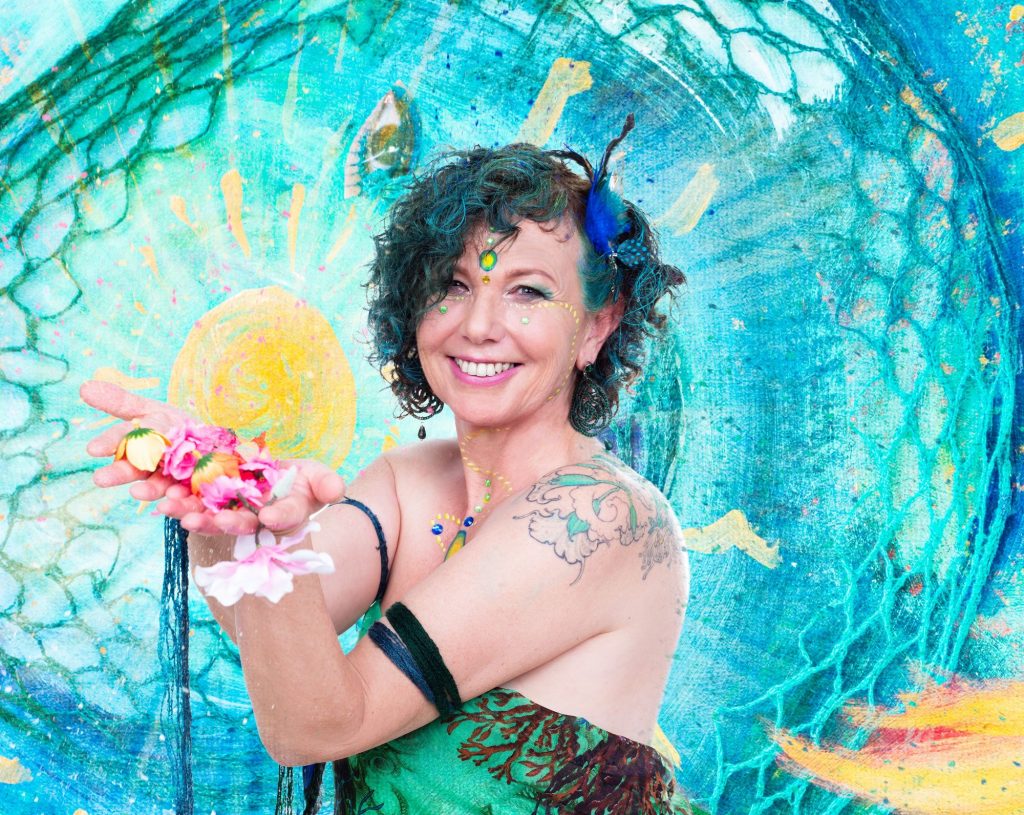 About Dechen Verschueren
My name is Dechen and I believe in the transformative power of your creativity.
Art as medicine.
It is pure magic to see what your own artwork has to tell you about your inner world.
As a born seeker with a great love for personal growth, I looked for answers outside of myself for a long time.
As a former Tibetan Buddhist nun and interpreter, I learned much from my dear gurus like the Dalai Lama. But still I lost myself somewhere along the way.
Through Soul Art® I connected back to my Creative Spirit, deepened my own wisdom and found my way back home to my own power place.
As a Certified Bodymapping Soul Art® Guide I take you on a joyfull inner journey to (re-)discover your innate beauty, wisdom and Creative superpower.