Q'orianka Cornejo
An amazing artist to inspire your journey
Q'orianka Cornejo's Soul Art Day Interview
What does it mean to be an artist to you?
Being a priestess and medicine woman, my art is unique. It's to create ceremony and guide women to experience the sacred within and in nature. To be an artist in this context means tapping into the divine essence, listening to my spirit guides, and inviting them to co-create with me and through me healing experiences, the activation of souls, and taking women on a profound journey of re-connection with our nature spirit guides and ancestors.
In my work, my hands, voice, mind, imagination… my whole being are instruments to create this kind of sacred art.
And love, beauty, and divine essence are key elements to my sacred work that result in freedom from the old shadow to be your authentic divine self, claiming your inner power to live a life of joy and sacred service.


What inspires you?
My feminine ancestors, who I call grandmothers, inspire me. The priestesses and medicine women who have fulfilled their live missions before me are a great source of inspiration. Soul-sisters on this kind of path keep on reminding me that we all can make a difference in this world when we dare to be ourselves and let the divine light shine.
Pachamama with her beauty, strength, and expansive nature inspires me to learn from her, to let her guide me, and show me how to serve, how to be ceremony, and how to share her medicine with the world.


What matters most to you when it comes to your art?
What matters most to me is that my sacred art is the most authentic expression of the alchemy of my heart, soul, the divine in nature, and the medicine of my ancestors. My deepest desire is that this alchemy brings more Light to this world.

More inspiration from Q'orianka Cornejo
Release Ceremony
RECEIVE MY GIFT TO YOU: RELEASE CEREMONY
Receive this unique Free Gift Audio transmission infused with the energy vibration of freedom.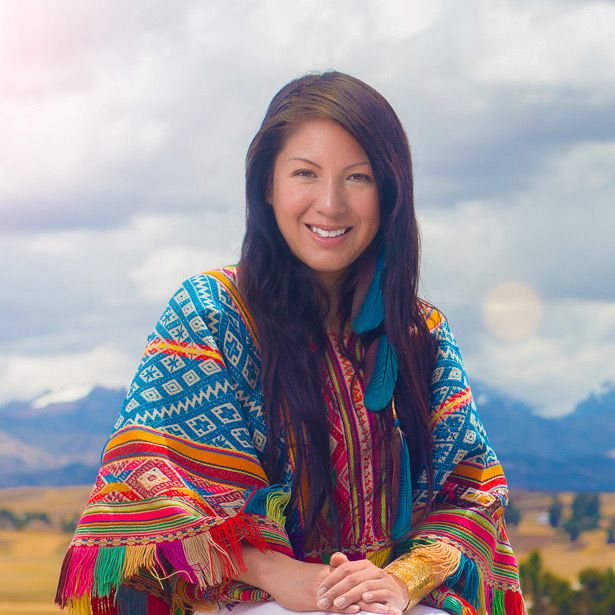 About Q'orianka Cornejo
Q'orianka is an Incan High Priestess, Medicine Woman and Transformational Guide for awakened women who want to step into their sacred destiny and live authentically in their divine essence. She is also a certified Reiki Master and a former Registered Nurse.
A master ceremonialist, Q'orianka comes from an ancient healing tradition of the Inca lineage. She leads ceremony based upon Incan and Amazonian medicine, including Cacao & Flowers.
Q'orianka is a professor to emerging medicine women and mentors them in offering their healing services successfully. She also offers private mentorship-life healing, sacred ceremony virtually and ceremonial immersions in Cusco-Peru.