International Soul Art Day Gallery
Sheila Delgado
Artist and Surface Designer from United States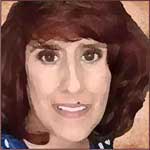 What Inspired you to do a Soul Art journey?
I planned on taking part. This month has been extremely stressful for my family. I thought I would have to miss Soul Art this year. I am so glad Laura makes the hangouts available after the live events! Taking part was a soul saver!
How would you describe your creative process?
Paper, paint, play. Body map – Neocolors and water. Bury that with white acrylic. Scratch into wet paint. Add blues, shades of sand and clay. Green shapes become leaves. Wait! How did that happen?
What insight did you receive from your Soul Art?
Focus on growth. My growth as an artist.
What is the most important thing you would like to share about your Soul Art experience?
There really is magic, and POWER in the spirit and connections within Soul Art Day. Inspiration, acceptance, kinship, belonging. Thank you Laura for another creative cohesion!
Learn more about Sheila Delgado
Website: http://www.sheiladelgado.com/