Jen Mazer
Getting to know Jen Mazer…
What inspires you?
I am inspired by other womxn's stories of strength in adversity. I'm inspired by the spark that happens when people connect and truly see each other for the first time through shared experiences – like what happens when people play my board game 'Sparked.' I'm inspired by my clients. I'm inspired by my 7-year old daughter and her imagination. I'm inspired by my partner Amayo and his beautiful spirit and enormous talent and generosity. I'm inspired by my 92 year old grandmother and her outlook on life. I'm inspired by people who I connect with everyday. I love helping people remember who they are, and tap into what's possible for themselves. I help people dream even bigger so that they can trust that when they're tuning into their desires and imagining what they want for their lives, they're actually intuiting what's already there for them. From that place, they can take action with ease. And that's manifesting! Just like an artist imagines what she wants to create, and then does so in physical form – We are all creating what we want in our own lives all of the time!


How have you used art and creativity as a healing tool in your life?
I've always used my own experiences to inspire my work. It's deeply rooted in feminism. From early on, I was making art about the female body, like the sculpture you see here, or a giant hot pink foam sculpture of a menstrual cup spilling out red yarn (that I made in college). I had a photo series about women who had sexually transmitted diseases called, "Etzchaim, Tree of Life", and I asked each woman to find a tree in their neighborhood that she felt looked like her vagina. I photographed both and put them up side-by-side with an audio interview underneath so that you could listen to each woman's story and relate to it instead of simply judging women who have STDs. The women ranged from HIV positive women, to curable STDs. It was really empowering for each woman to participate. And that series got written about in major newspapers back in a time when it wasn't heard of to be doing work like that. I was always bold in my work since high school. And I think that gave me the confidence to help others be bold with their visions – whether it be art or new business ventures. It's powerful to connect with your heart and use your work as a tool to get your message out there, to help heal the world.


What role does an artist play in our society?
Art is a tool for healing. It's a culture-shifter. It's a voice for change. There's a great quote by the Nigerian musician Fela Kuti, "Music is a weapon." …Meaning, art can change society. It has such broad reaching power. And my favorite quote of all time is Picasso: "Everything you can imagine is real." That's my philosophy in life. Whatever you can imagine for your life, you can manifest. You already have within you everything you need to live out your dreams. When you're imagining, you're tapping into your intuition. And all you need to do is say YES to the visions you receive. I believe our dreams are really the universe's dreams for us. So as artists, it's our responsibility to make our work.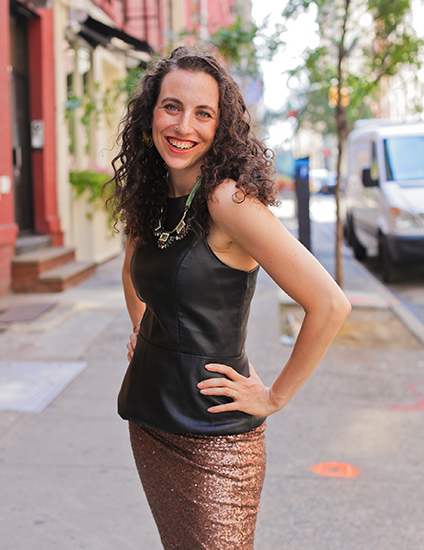 About Jen Mazer
Jen Mazer is the Queen of Manifestation®.
Jen has always been able to dream up outrageous adventures and actually live them out—from rubbing elbows at a small private cocktail party hosted by Martin Scorsese, to living rent-free in Manhattan for 10 years, to paying off over $38,000 of debt in less than a year, having her artwork published in the New York Times, traveling the world, meeting the man of her dreams (a successful rockstar), and giving birth at home to a beautiful daughter.
She is a sought-after transformational speaker and coach. She teaches people how to manifest their biggest dreams while making an impact on the world.
Jen is known for her signature Manifestation Masters program and Queendom Mastermind. She is the author of 'Manifesting Made Easy' (Simon & Schuster), and Co-Founder of the board game, Sparked.