Sarah Coey
Getting to know Sarah Coey…
What inspires you?
I am inspired by absolutely everything, from nature, to weather, to a new delicious food or a really good bubble bath! I believe everything we experience enriches us and develops our inspiration and nourishes our creative souls! But my primary source of inspiration is the Scottish countryside. I have lived in the middle of nowhere in Scotland my whole life and I absolutely adore its rugged beauty, its sweeping and dramatic weather, its mixture of something delicate and floral with the untamed wilds! I never tire of this landscape and it brings me constant inspiration and joy.


How have you used art and creativity as a healing tool in your life?
Art has always been my escape. As a child I was pretty badly bullied at school and drawing and painting gave me a way to bring a little piece of beauty into the world! As an adult I found that I was at my most creative when I was pregnant, and having had a hard road to starting a family, I immersed myself in painting now that I was bringing a very much wanted, and loved, life into the world.


What enables art to connect with people?
I think that we are all looking for beauty in this world, our a visual representation of how we feel. And art is this magical bridge! As humans, I think we are always searching for something that sings to our souls, whether this is friendship, love, family, career, travel… We are always interested and curious and looking for things that slot perfectly into our interests and loves in life. I believe that art is a wonderful visual addition to this. When we connect with a piece of art it is not only because its a "nice painting" Its because it speaks to us on another level. It's because someone captured exactly how we feel. It's because that piece of art is a visual representation of our hopes, dreams, love, life and this connects us in a deep and wonderful way.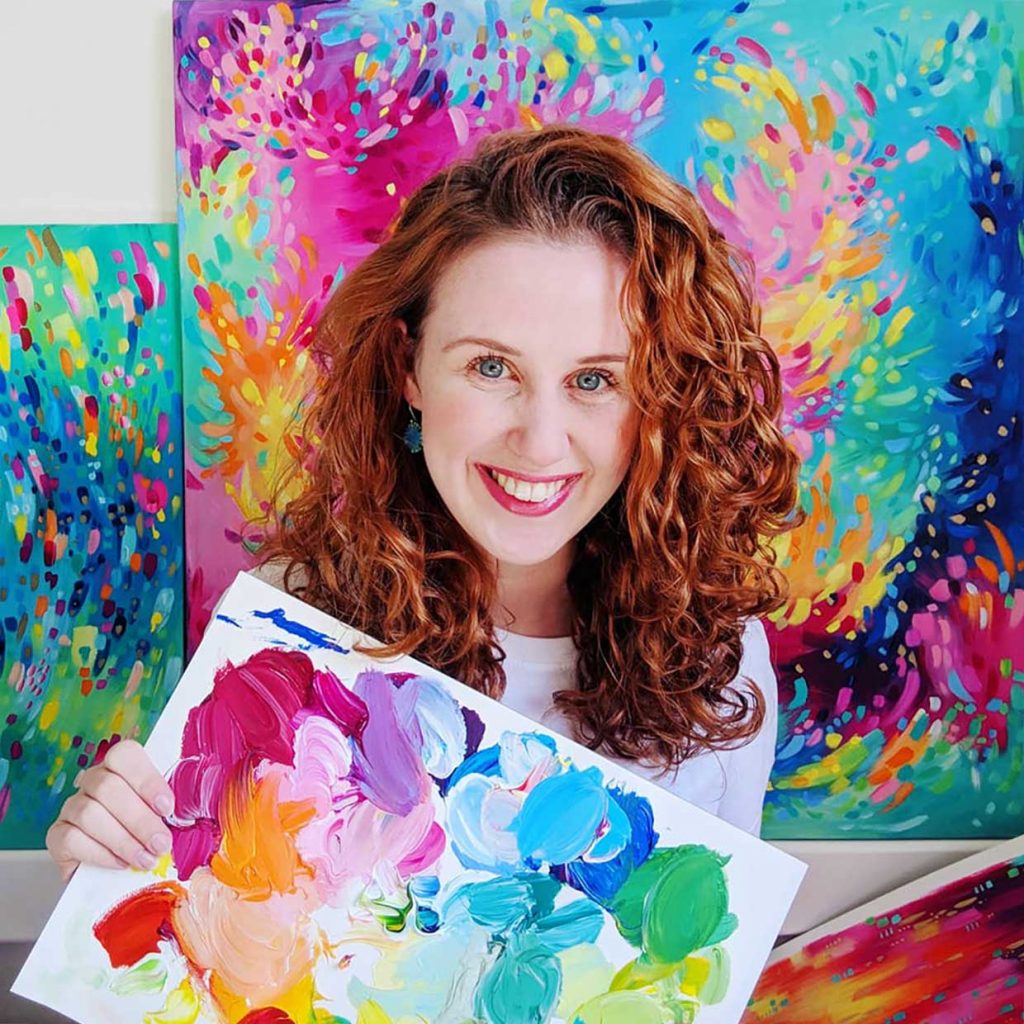 About Sarah Coey
I'm Sarah – a Scottish abstract artist passionate about spreading happiness through wild, rainbow-tastic paint.
Art has always been my forever passion. My escape. My outlet to explore all the fun, magical and dreamy experiences of life in one expressive brushstroke. A colour lover from the beginning, I found myself painting in every spare moment and felt fizzy with happiness during these bursts of creativity. I wanted to cover the world in colourful paint, and spread happiness through art. This has always been my dream.
My unique style was created through playing with my favourite vibrant colours, and the exploration of expressive brushstrokes and wild mark making. Growing up in the Scottish countryside I was constantly inspired by the rugged beauty of the landscape, the combination of wild and tempestuous weather against the fragile delicacy of wildflowers. It is this combination of something untamed and something deliberate which I love to explore with my art and trying to capture this on canvas is passion of mine.
I've been told my art is full of happiness and joy, of magic and wonderment, of daydreams, stardust, rainbows and storms. And I think that is the most wonderful description! My abstracts are full of wonderment and curious possibilities. They enchant with thoughts of long forgotten fairy tales and whispered stories at the fireside. They awaken dreams of travel and yearnings to explore. But mostly they evoke happiness and joy.
Art should uplift and inspire, and my abstracts pop with vibrant fun and rainbow-tastic colours.
Explore my world of abstract, colourful beauty! Colour your life… adopt a rainbow!