Lainie Love Dalby
Getting to know Lainie Love Dalby…
What enables your creativity to thrive?
The short answer is that I purify my sacred vessel to stay clean and clear for what wants to come through me. I surrender & open to receive. I create time for gestation. I deeply listen: to my intuition, to the Spirit realms, to the wind, to the heartbeat of the earth. I ask what it will require of me. I inquire as to what I need to release for it to come through. I continue to polish the inner diamond to reach my peak potential and do the necessary healing work to call all parts of myself back home. I stay deeply rooted in my body as a portal to my power and creativity — because if I'm not ROOTED, I can't RISE & SHINE out in the world. This is one of the core premises we journey with in our SISTERHIVE learning & practice community.
The longer answer is that daring to live into the fullness of my Being & creative expression has actually been my greatest wound, but it was there that I unearthed my greatest gems too. That's why I'm on a mission to help human spirits to Sparkle SHAMELESSLY® & step into their authentic power now as my soul's work. You see, I grew up as an obese, creative outcast and my spirit was squashed relentlessly through violence and bullying from the world around me, the dieting industry, and even my own family. People couldn't handle my big, wild energy, free creative spirit and blinding bright light, so they tried to dampen it and shame me by always saying I was "too much." I eventually internalized this violence and over the years turned it against myself, gaining and losing over 1,300 pounds through yo-yo dieting, various eating disorders, unhealthy addictions, and self-hatred. In short, I had learned to distrust and disconnect from my own body and inner soul voice, shutting down my free spirit and going into autopilot. I had become a prisoner of the patriarchal social paradigm, a slave to a culture that assaults the body.
This led to a deeply challenging time being in this body, and feeling safe here and in my own skin. One of my greatest struggles has been channeling the blindingly bright sparkling cosmic dancing firestar Being that I am into a human form in this 3D reality. I was always dissociating from old trauma stored in my cellular memory and leaving my body, so I could go be in the visionary realm where I felt most comfortable. It's been a continual journey to come back, to return, to spiral back into my earth suit and ground into Gaia. To ultimately welcome myself back home again and again.
I've learned along the way that if we're not in our bodies, we can't be in our full (r)evolutionary potential. The body is one of the main portals to our creativity, and being fully embodied allows it to THRIVE! We are powerful beyond measure, especially as womxn, with an infinite capacity to create and give birth to new life. We just tend to forget that fact.
Growing up, I hadn't been taught about the miraculous power of my unique feminine form. No one shared the ancient wisdom of the Moon mysteries around the kitchen table, the magic of blood rites and our connection to the Ocean's tides or the general field of wonder that our body is. I hadn't been told that we are radical creators with every breath, able to focus our life force energies and intentions into manifesting all we desire. I didn't learn in history class or in vacation Bible school about the Goddess as primordial Creatrix, modeling the empowering divine feminine principle of cosmic creation and ability to give birth to all new life. This deep and essential wisdom has all been long suppressed … and to our great detriment. Because I believe it is key to our creativity.
Over the last decade since I went through Interfaith Seminary, I have been on an intensive spiritual journey clearing away all of the debris and everything that no longer serves me so that I can return to the truth of who I am, Sparkling SHAMELESSLY in the world once again, fully embodied. I've released countless energetic skins, incorporated strengths from past lives, healed countless traumas, re-membered all parts of myself and called them back home – which has all allowed my creativity to thrive.
I feel so grateful to have had such an incredible journey and tons of support with people holding space for me to heal, grow, transform and Rise. I have followed the call to GROW, GROW, GROW like the angels whispering over a blade of grass in Kabbalah. And the call to CREATE, CREATE, CREATE from Spirit. I have been continually doing the inner work necessary to become the womxn I'm capable of being. Now, I hold space for other womxn to help them do the same, so we can step into our power and full (r)evolutionary potential together. So we can Sparkle SHAMELESSLY with our unique #SOULSPARKLE. This keeps my creativity flowing endlessly now since it's my greatest passion!


How have you used art and creativity as a healing tool in your life?
Often as creative spirits we're told as some point that we're either too much or that we're not enough. Our spirits are squashed. But the truth is that our too muchness is great medicine for our world. One of the ways I help uncover the aspects of one's authentic essence that have been lost or put into the shadow is through using the expressive arts as a healing & discovery tool in almost all of my sacred circles and containers of alchemical transformation.
I believe in the power of artmaking itself, and especially mixed media visual art & collage, as a form of prayer, deep healing, & communion with the Divine. That's why I refer to my art as He(art). It's accessing an endless well of colorful textured language from the mysterious realm of the soul. Each sacred offering is a clue to the truth of who we are, leading us closer to ourselves and why we're here at this time. It's an opportunity for us to take an individual journey into our inner landscapes, bringing forth our deepest expressions of wholeness and the embodied truth felt deep in our bones. It's welcoming all parts of ourselves home, surrendering to the mystery, and safely entering into the darkness and the shadow. It's merging spirit and earth through creation.
For every creation is inscribed with the creator, including each and every one of us.
I deeply believe that we matter. We each have a precious human life that deserves to be cherished, supported and upheld. That's why my own sacred work is focused on individual & global healing, and why I infuse this intention into all I do and create, regardless if it's in our Sovereign Sisters Rising Initiation or our SISTERHIVE® virtual community, or a work of He(art) or facilitating a sacred circle.
In all my spiritual & leadership development work with others, I invite the Expressive Arts into the personal & spiritual development process to help participants unleash another level of their authentic soul expression and creativity. Whether it's doing Qoya movement, shamanic ceremony or creating a mixed media collage, the Expressive Arts offer a complementary and colorful addition to the process of healing, transformation, mending and reweaving of participants back to where they came from and who they truly are, to their deepest soul truths, to their most authentic essence. And the best part is that no art experience is necessary!
In this context, artmaking is a portal/vehicle for the secret language of the soul that helps lure us back to wholeness and who we truly are. Each gesture, symbol, image and element weaves together healing and deep meaning, allowing us to access the depths of our own being (both individually and collectively) and to mine the beauty and wisdom of the soul.


How have you used art as activism?
Sacred Art refers both to my spiritual teaching in the world and what I create with my artworks, or what I like to call he(art) works. It's a form of living prayer. I deeply believe that we are all artists and creators, in charge of the greatest masterpiece on earth: our LIVES. We're co-creating each day, all in service to the Great Cosmic Masterpiece and this dance of life of which we're all a part.
The life we are living in this very moment is the true work of Sacred Art and can become a form of sacred activism if held with intention.
Our life is our canvas — and it's our responsibility to make it a masterpiece for the good of all. What I'm referring to when I use the word masterpiece is really reaching our peak (r)evolutionary potential in this lifetime. It's embodying our full artistry in every moment and continually stretching and growing into the fullness of who we're meant to be in the world. It's doing all we can to unleash our authentic soul expression so we can Sparkle SHAMELESSLY® in service to all those who need us most, and to Life itself.
My particular path of sacred art & activism is serving as a catalyst for Sacred Reconnection & (R)evolution so we can Sparkle SHAMELESSLY & step into our Authentic Power as a great healing for all.
I stand with deep integrity, burning FIRE, juicy passion & fierce commitment to hold space for womxn to ROOT & RISE into their full power & Sovereignty in the world so they can SHINE with their authentic essence. My superpower is creating alchemical containers of transformation & sacred circles to assist in this culture shift. My greatest heartbreak is the overt and covert violence against women, girls & marginalized communities so I've been called to GATHER THE WOMXN and focus my sacred work around helping to root this out of our world through the birth of Sovereign Sisters Rising, an experiential education & training organization that's been on the forefront of the Fierce Feminine uprising for the last 3 years. I deeply believe that re-connection (to the body, to our truth, to the earth, to each other & the Great Web of All Life) will bring an end to violence. This is the core of The Sacred (R)evolution® that we're leading TOGETHER.
By practicing the 13 pillars of The Sacred Art of Sparkling Shamelessly in Sovereign Sisters Rising & our SISTERHIVE® virtual community, we're providing a way for us to come back to our truth, our essence: our honest, authentic, wild, courageous and alive selves. This is a journey of re-membering ourselves into being and recovering our spiritual essence. It's a map to help us refocus on what matters most — our inherent #SOULSPARKLE and brilliant inner Divinity — so we can share that with the world for the good of all.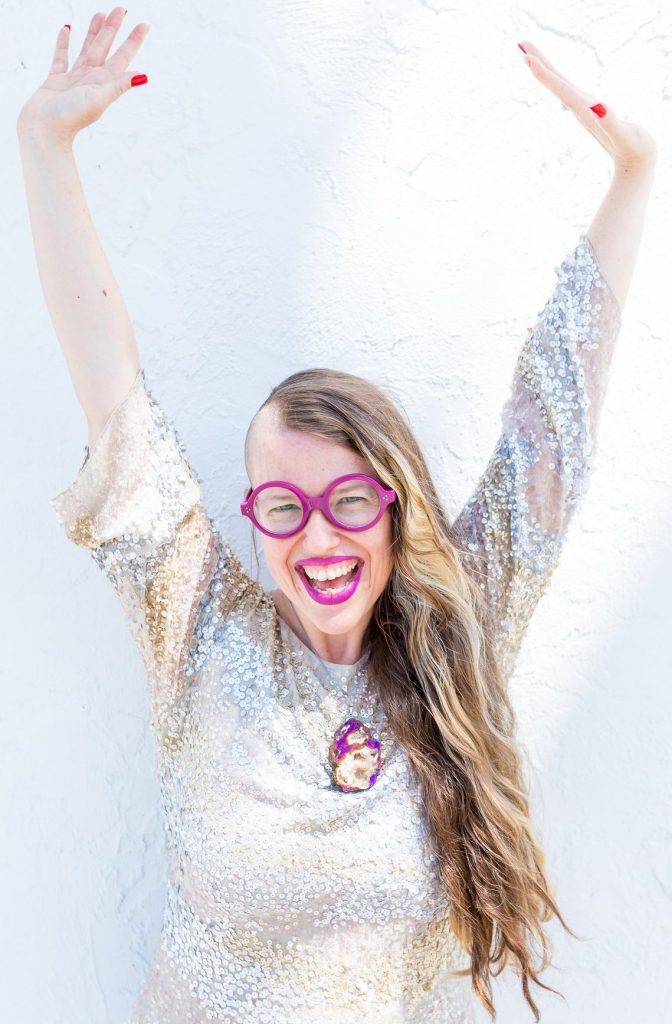 About Lainie Love Dalby
Lainie Love Dalby is a Galactic Rainbow Shaman on a mission to free human spirits to Sparkle SHAMELESSLY® and step into their authentic power for the greater good of all. As a spiritual thought leader with her own brand of multimedia ministry, she is using daring style, deep substance and Divine #SOULSPARKLE to dismantle old systems, ideas, and ways of being that promote separateness and limit our full (r)evolutionary potential. She is also the founder of Sovereign Sisters Rising, an experiential education & training organization that's on a mission to end our culture's rampant disregard for LIFE, especially the overt & covert violence that's perpetrated against the Sacred Feminine and our own bodies, by restoring reconnection around the globe. To that end, she gathers womxn in both live & virtual sacred circles to facilitate deep healing, sacred play, soul growth, and alchemical transformation, including her SISTERHIVE® virtual learning & practice community. Her ultimate goal is to help us feel more comfortable in our own skin and remember who we truly are and why we're here by unleashing our bold creativity, innate wildness & fierce feminine courage in a way that is joyous, colorful and fun! Overall, she is stewarding a Sacred (R)evolution® of love & reverence for self, other, our planet and the great Web of All Life. Embark on the journey with her free #SOULSPARKLE Starter Kit today at https://www.lainielovedalby.com/, in her SISTERHIVE community at https://bit.ly/sisterhive or on Instagram @LainieLoveDalby.