Leah Guzman
Getting to know Leah Guzman…
What enables your creativity to thrive?
My creativity is a direct connection to Source. I see my art as co-creation with the Universe. When I meditate, I'm giving myself the time to connect and listen for messages. It's all about alignment for me. However, when I'm off, not in alignment I tend to lose my creative flow. I find that I'm restless, not satisfied, and in the search of joy. This is why I feel that my relationship to time management, self-care and making space for creative opportunities enables my creativity to thrive.

What is the biggest transformation you've personally experienced through your creative journey?
I've been an artist all my life. However, the creative journey has been more of an inner "coming home" and most enlightening experience. For most of my life I would create and give my art away. It was 7 years ago that I decided that I wanted to put my creations out in the world for public consumption. This created a shift and has been eye opening learning experience. Creating art for sale has taught me how to run a business, manage time, heal my relationship with money, market myself, and put a price tag on my work. I had to be more vulnerable. I also had to step up and be seen.
However, the biggest transformation personally is just looking at my creative practice as an interconnection with everything else in my life. It's been a practice of listening more to my intuition than my rational mind. I've started to view my process as an "art" in itself. I like to say, Life is Your Masterpiece. Instead of looking at my art that hangs on a wall I look at it as its infused in every part of my day. I want to nurture my family, friendships, how I prepare meals, decorate my home, to what I wear, blending colors and my art therapy practice as a piece of art. When I take the time and attention to really appreciate and give love to all aspects of my life I am in the flow. The flow is what fuels me and my passion.
For example, this "flow" is how I co-create with the Universe. I'm currently creating a self-development coloring book for creatives. It's exciting for me to see what is the next step in birthing this new book. Each day I get new insights, like a puzzle, of how it will go together. I don't really know how it's all going to come together when I start. I just have an idea that this is what I must do. Yet, I surrender to this process of just starting and follow the signs. This process of creating, listening, surrendering and taking aligned action has been my favorite ways to create. This intuitive practice is really an art in itself;)

What enables art to connect with people?
The connection between art and people directly relates to human emotion. Whether it's a simple color, a sexy girl, or a statement it has feeling. I usually ask myself the question before I begin making something, what is the feeling I want the observer to experience?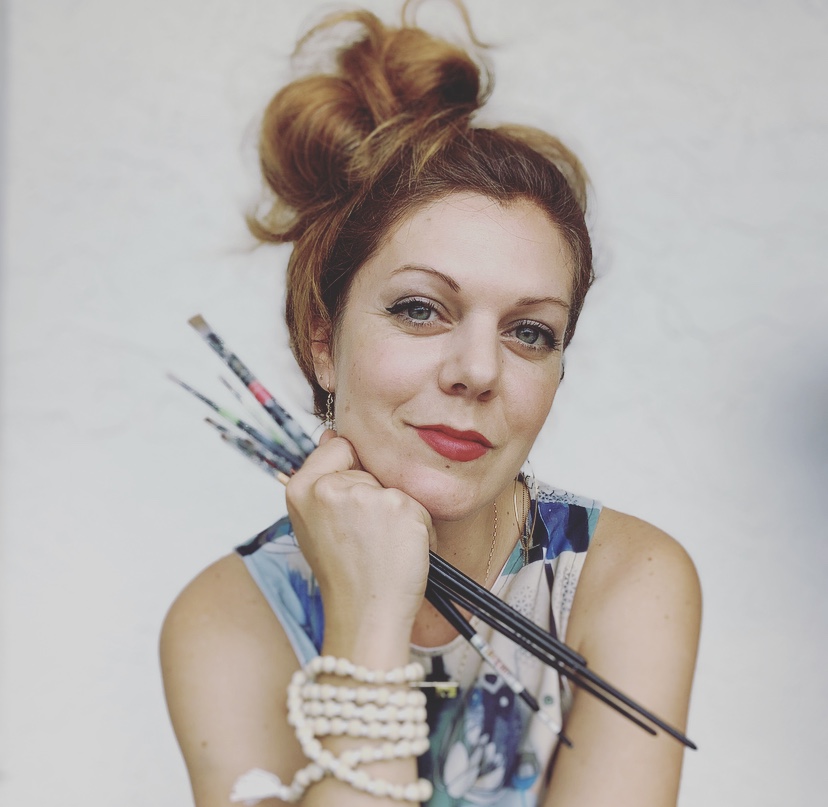 About Leah Guzman
My mission is to create art that embodies high energy, bringing peace and harmony to spaces. I'm a Board Certified Art Therapist, practicing for 15 years and professional artist. I consider myself a self-development guide teaching creatives how to connect mind, body and soul through the art making process. Online offerings include art therapy, Art of Manifesting Programs and Life is Your Masterpiece sessions to guide you in healing, constructing and living your best life.
Above all, my art making practice is my therapy. The style of my art is mixed media, contemporary painting. I prefer to use oil, acrylic and spray paint in both portraits and abstract pieces. Therefore, the abstract and figurative works are richly symbolic, layered, spiritual, soulful and organic.