Awi
Getting to know Awi…
How do you deal with blocks and challenges in your creative process?
Despite the frustration I often feel when they show up I also honor them as an invitation to look and feel deeper to where my life force is held. Then challenges and blocks become keys to liberate more life power and "pots of gold" rather then things to fix or get rid of. It's a very revealing creative process of discovery, transformation and growth.


How have you used art and creativity as a healing tool in your life?
Over the last 20 years I have developed an intuitive creative practice that I call Channeled Drawing as a tool to process feelings and access soul guidance.
I consider the intuitive creative process as a healing response to blocks and challenges in my life because it brings me out of stagnation, isolation, helplessness back into movement, engagement, feeling, wonder, curiosity helping me to open my channel, to feel my power and life-force.
Giving myself permission to let my soul freely play with lines, colors, pictures, found objects with no preconceived idea or image/aim to accomplish is such a joy and liberation from self-judgment. What can come through this open channel is often just magic.
I use my art to open the channel to receive guidance on specific questions for myself as well as other people.
The answers reveal themselves in the way the drawing or art manifests, what I or others feel in the process and after the work is finished.
This practice has opened me to trust deeper, surrender to the unknown and the source from which all creations are manifested, it has connected me with people through the soul readings, workshops and integration into my mentorship program. It is a daily refreshment, energy charger and pleasure practice.


What enables art to connect with people?
For me if art carries a frequency. It is a direct transmission. When art is practiced with an intention, with joy of creation, with a message to share it can truly touch people directly in their heart and soul. That is very powerful.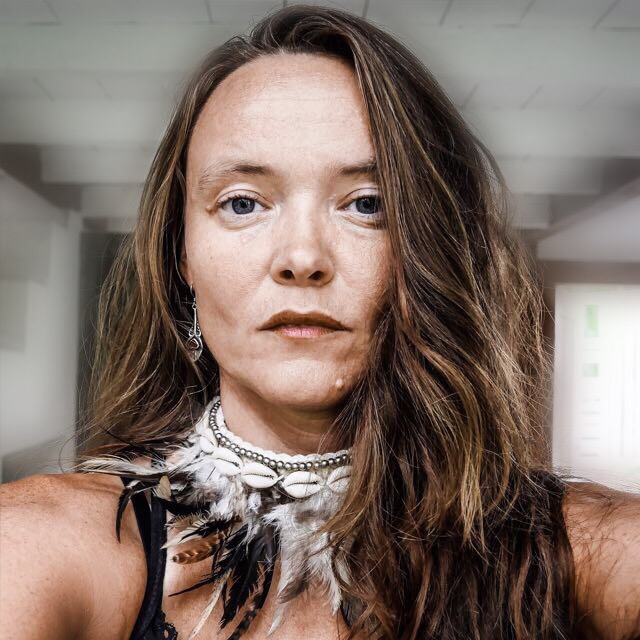 About Awi
Awi is an intuitive creatrix & transformation artist who is passionate to empower fellow creative change agents to dare reveal themselves to be fully seen in their power place to share their message and create meaningful connection.
Secrecy, separation and sexual abuse had a deep impact on Awi's life challenging her self-esteem and ability to trust people and find her place in the world. Yet these circumstances also enabled her to refine her intuitive senses and find unique creative ways to reconnect with her own soul essence to liberate "frozen" life force through deep inner healing work, creative expression and soulmate support. She continues to trust life and her soul power on ever deepening levels to follow her calling, integrating trauma and releasing her life force in creative projects, daring to be truly seen in all her expressions, and guiding others back into their power place to connect with trust and pleasure.
Awi is the founder and creatrix of FULLY SEEN – a Brand Design Studio and THE ART OF REVEALING – School of Creative Liberation & Daring Leadership – enabling conscious creators & entrepreneurs to reveal and reclaim their creative power place so they can align and focus their soul work and share their message with the world to connect, magnetize & engage with a bigger audiences without loosing their power.