Devon Walz
Getting to know Devon Walz…
What enables your creativity to thrive?
Spaciousness and beauty. Even within a busy schedule, carving out pockets of my day with no stimulation (like meditating and going on a walk) is so important. It allows my brain to wander. sort through ideas and get excited about creating. And then getting my fill of beauty, whether thats through traveling or just spending time at the beach, acts directly as fuel for the studio.


How have you used art and creativity as a healing tool in your life?
Channeling my emotions into art helps me to process and integrate whatever I'm moving through in life. There is something powerful and magical about being able to energetically sort through my experience without having to use words. It's what brought me to making art in the first place.
When I'm feeling stuck or upset, my favorite thing to do is move a pencil or paintbrush in my sketchbook with no agenda. To let the stuck-ness move through me in physical form. This helps me to drop resistance and just be present with where ever I'm at. This has been the number one thing to help me move through difficult moments in life with more grace and ease. It usually contributes to beautiful aesthetic discoveries in the process, too.


What role does an artist play in our society?
While there are SO many different and important roles the artist can play (depending on the artist herself), I feel most to connected to the artist as a permission giver. I think choosing to be an artist in this day and age is a radical act that says, "I am devoted to doing what calls me. I'll accept nothing less than spending my time bringing forward the work that is in my heart," and also, "It's possible."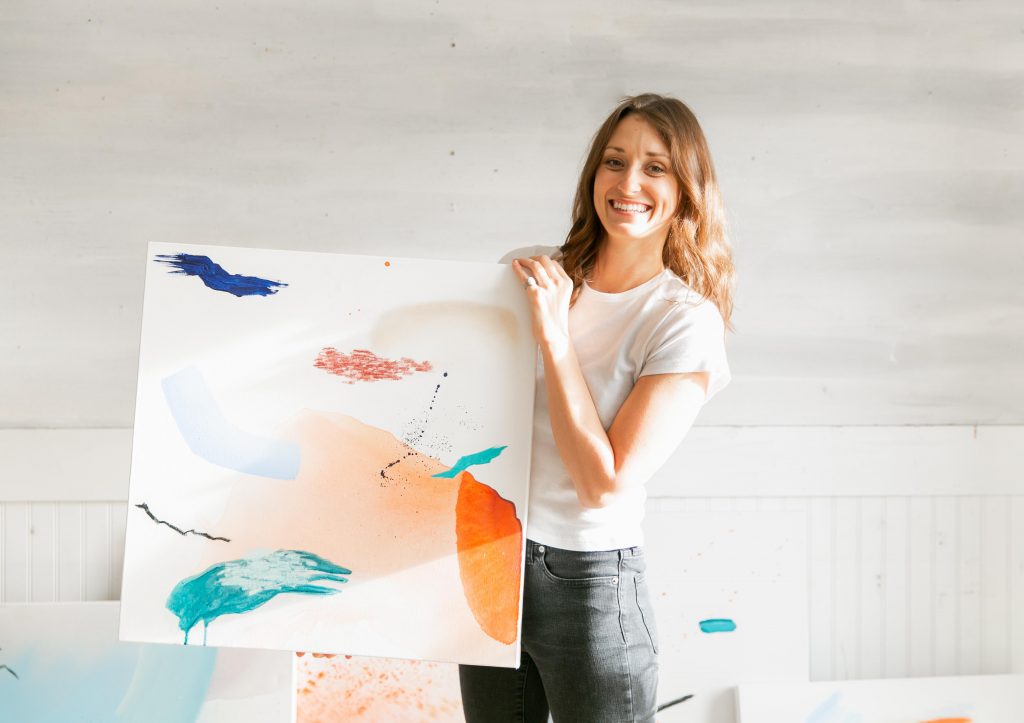 About Devon Walz
Devon Walz is an abstract mixed media artist, educator, creative guide and dedicated student of the creative process.
Her work aims to capture the energy that lives beneath the surface of physical reality and is highly influenced by her time spent among California's oceans, forests and mountains, and her interests in spirituality and healing.
She guides other artists in achieving their highest expression (both on and off the canvas) via her courses, workshops and mentorship programs, and is known for emphasizing a balance between the soulful and technical aspects of the artist's journey.