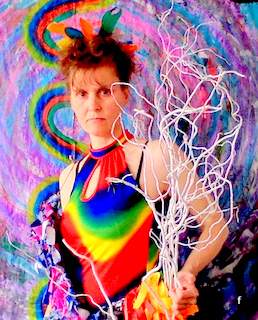 Harma Margrieta's Soul Art
Harma Margrieta
Harma Margrieta is a creative explorer who helps her clients alchemize their inner blocks into renewal and expansion. She takes people on unique creative journeys that express deeper layers inside of them. She helps them see, sense, and experience these layers through colours, images, different material use and movement. Becoming "part of the art," they see through their reoccurring patterns, discovering new angles, ideas, and opportunities.
Harma is a certified Soul Art guide. She also holds a certification in the Dutch body-mind awareness technique, haptonomy. She values these methods for its ability to reconnect people with their true origin and its creation power to birth dreams into reality.
Harma Margrieta is an international spirit, who has lived in Jordan and Italy. Currently, she residences in the Netherlands and plans to organize retreats to the Wadi Rum desert in Jordan.
About Harma Margrieta's Soul Art
This is an expression of my tribe spirit guide for level 3 of the Soul Art certification training (spirit guides). This journey was about presence, essence and visibility. The structure of the costume (dress and headpiece) is created of hexagonal wire mess with ragged pieces of coloured fabric knotted in. It symbolises the grounding and embodiment of my essence: "colourful with a fringe". This gave me the insight that visibility in this world starts with "a presence of the essence". Being seen and noticed by the world around me starts with an understanding and noticing of myself.
During the photo shoot, I realized the way I was wearing my costume, the white branches behind me on my back were now aside me. From being out of sight on my back, now in my sight aside me. This gave me the second insight: "the invisible is visible".
As a visibility and presence act, the spirit action, I put on my costume and sat in it for 20 minutes, three days in a row. On the third day, sitting in silence I saw, very subtle, my costume taking over the rhythm of my heartbeat. Another experience of the invisible is visible!
What does Soul Art mean to Harma Margrieta?
I find in soul art a great tool to move through inner blocks. I have done so much spiritual work, but I always had the struggle to bring it back to earthly proportions. Soul art is my tool to connect spirit with earth, soul with body, build that bridge between realities and dialogue with the invisible world. When I started with soul art, I had been blocked and locked in for quite a while. I wanted to change and do it differently. I was open to it, I only did not know how lacking the tool. Soul art has given me the tool to connect with my barrier within, experience my barriers and transform them into renewal and expansion. I am now a Soul Art student for almost two years, certified in two levels and working on my third (and on my way to the fourth and final level) and the deeper I go into this journey the more I am becoming the person I truly am. My life is more and more becoming the art.