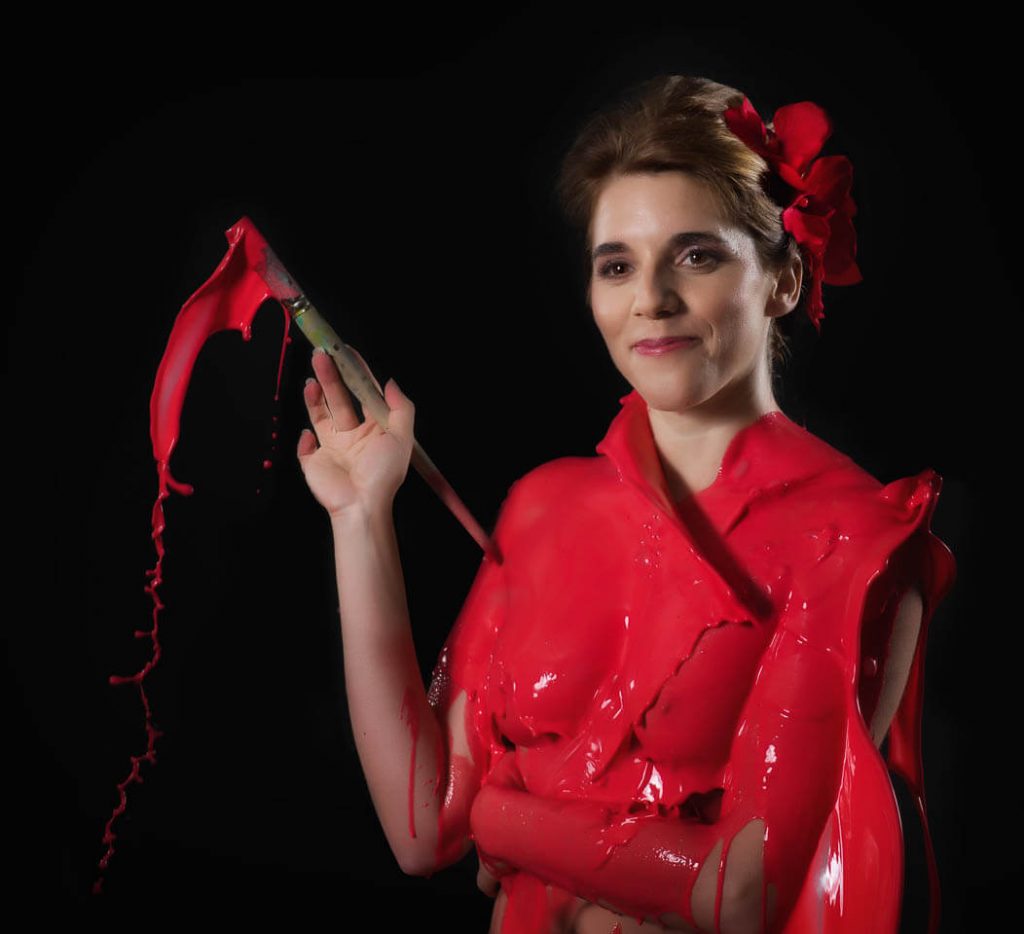 Janine
Born in Zug, Switzerland, growing up with two sisters and one brother. One of my favourite subjects at school always was drawing but after finishing High School and going to university and working on my PHD of Psychology, I kind of forgot about it until I was about to get very ill. At this time I remembered the joy of painting and I started to take lessons again. From that point on I continously was playing and experimenting with different ways of expressing myself until I found Laura (or Laura has been found for me) and Soul Art, that made me go much much deeper in my process of healing.
I've always been fond of animals and nature and I find my inspiration and my source of healing while being among animals or in nature. And while going through my fears I more and more am able to hold space for others in their process and I love combining this healing process with my creative expression. For my exhibitions I love finding special places such as carpentries, cafés, old houses, Veterinary shel-ters…Here my last expositions:
– Stiftung Villette Cham, Oktober 2012 – Arte Binningen, Arte Mixed & Kunstmarkt, November 2012 – Schreinerei Odermatt Baar, Mai 2013 – Metzgerei Rinderli Zug, Mai 2014 – Ausstellung Gino's Kunstcafé Will, Oktober – Dezember 2014 – Arte Binningen, Hauptausstellung November 2014 – Schrinerhalle Baar, Mai 2015 – Schrinerhalle Baar, März 2016 – Kleiderboutique Joly Baar, April 2017 – Tierarzt-Praxis de Sepibus Baar, seit Sommer 2017
About Janine's Soul Art
This image contains of a lot of my body's essence (like tears, blood, the energy of my naked skin). My intention was to honour my body and my body's wisdom. I was going through a lot of unexplainable pain and I just wanted to take care of myself and to focus on my essence that wants to be brought into this world. While being on this deep transformational and insightful journey with this painting, layer after layer I got hints, what wanted tob e in there too and I even got several visions that showed me how to contiue with this painting. And step by step a lot of support in form of animals showed up throughout the process of pain-ting. And I got to understand more and more about what is holding me back and what is causing pain. I wanted to honour my past that brought me to the present moment, and the present moment for opening me up for so much insights and healing and preparing me for my next steps. So this painting really is showing my essence and the undescribable support and love I am surrounded with. And that shows me the way and guides me even if I don't see where to go.
What does Soul Art mean to Janine?
Soul Art is a beautiful journey to the depths of the unknown while holding one's hand lovingly throughout this process of finding and sharing one's essence. Soul Art is Guidance through building trust and holding space for whatever wants to show up. Soul Art is a Heart Opener and an All-That-IS-Hug, integrating all in wholness and in that, Soul Art a vessel that is able to heal everything.