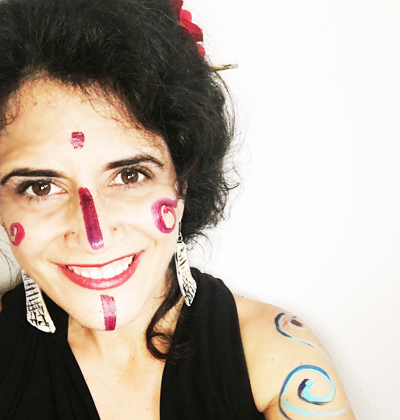 Amber Kuileimailani Bonnici's Soul Art
Amber Kuileimailani Bonnici
Amber Kuileimailani Bonnici is an Intuitive Creativity Coach and Creative Business Mentor. Amber helps women access their creative power and supports creatives (authors, artists, teachers, healers & creative business owners) get their message out into the world through her live retreats and yearlong mentorship programs. Amber is Host of the Woman Unleashed Retreats, an online event that gathers tens of thousands of women each year. Amber began painting in 2010. Within 3 years her award winning artwork was featured in solo shows, the United Nations Commission on the Status of Women and Human Rights, An Artists Perspective. Amber supports her online global community of 25,000+ women to spread their creativity throughout the world. Her gift is to help women not only tap into the creative process but to finish their works. When she's not teaching or coaching, you'll find her on the Big Island of Hawai'i painting, dancing hula or hanging with her husband and boys.

About Amber Kuileimailani Bonnici's Soul Art
I believe creation is actually CO-creation. It's our purpose.
It is about more than "pretty" or even self expression. It is about putting our energy and intention into our creations. Infusing them with our soul, our being.
Each of my pieces tell a story. They have a piece of MY story, a piece of me that is ready to be seen, to be shared. After I've created something, there is a resonance. You can feel me behind my creations.
What does Soul Art mean to Amber Kuileimailani Bonnici?
Soul art is about feeling the soul behind the art. It is about letting whatever needs to be created flow through, to open the doorway and let what wants to come, be birthed. It's about creating what it's time to create whether that's beautiful or ugly, confronting or healing. It's about the courage to step in.